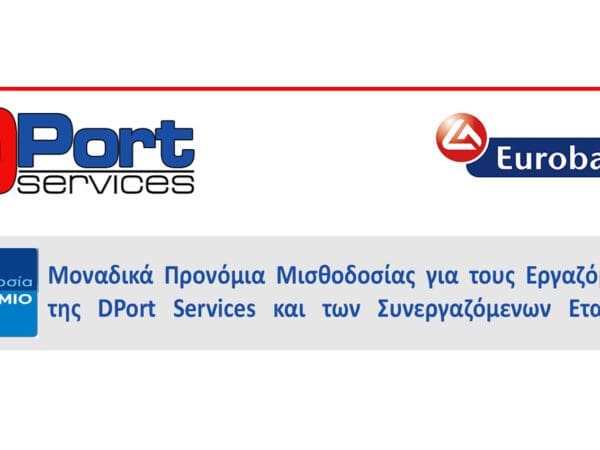 DPort Services came in cooperation with Eurobank in order to join us in the integrated payroll program "PAY PAYROLL PRIVILEGE", so that all our employees have a real benefit in their daily transactions and important privileges in banking products and services.
The new payroll program makes it easier for us to buy small or large with:
Credit card (upon application) with free subscription, reduced interest rate by 1% and the possibility of transferring balances from credit cards of other banks with an interest rate of 6.9% until the balance is paid off,
Personal Payroll Loan (upon application) with a preferential interest rate & immediate repayment from the payroll account,
Overdraft limit (upon request) with the first €150, each month interest-free and without costs of use or examination of a request,
Mortgage Loan (upon application) for purchase, construction and repair/renovation of a home, with preferential pricing of fixed and floating rates, and many other benefits and services!
Representatives of Eurobank will be present in the next few days at our offices in order to inform you about the unique privileges of the program.
#BeProudBeDPort